Saudi Arabia/women's sport: "Sport has really built me as a woman" (Laure Boulleau, ex-footballer)
"The values of sport are infinite. You learn a lot by playing a team sport: self-confidence, respect for others, respect for the rules, living together, etc. I've had injuries, you also learn not to give up. Sport has really built me as a woman," said Laure Boulleau (FRA), on 31/03/2022.

The former international footballer (65 caps with the French national team), now a consultant for Canal+

Founded: 1984 Industry: pay-TV (France and overseas, Francophone Africa, Poland, Vietnam) and free-TV in France (C8, CNews and CStar); aggregator and distributor of channels via subsidiary M7… , took part in a conference on "sport as a tool for the development of women", held at the Prince Sultan University in Riyadh, Saudi Arabia. Boulleau talked about her experience as a high-level sportswoman confronted with the evolution of women's football in France and Europe, as part of an exchange with two personalities from Saudi sport: the fencer Lama AlFozan, member of the board of the Fencing Federation and member of the Athletes' Commission of the Saudi Arabian Olympic Committee (SAOC), and ex-boxer Rasha AlKhamis, vice-president of the Boxing Federation and member of the SAOC Women's Committee.

"When I started fencing eight or nine years ago, there were maybe 50 female athletes in the whole Kingdom. Today I am very proud to see that there are more than 4,000. We are starting to have infrastructure, which was not the case before. We have a vision, an objective, thanks to the support of the Ministry of Sport and the SAOC, which want to offer the best for the athletes in terms of support. We don't just want to participate, we want to gain international recognition," said épée specialist Lama AlFozan.

"I started boxing back in 2014 during my studies in California (USA) and when I moved back to Saudi Arabia in 2017, I found that nothing had been done here related to boxing: no classes, no fitness boxing! This was an opportunity for me to initiate a conversation on the subject and the response was positive, with a willingness (from the authorities) to activate women's sport, especially boxing. That's how I became the first female coach certified by the Federation. The impact was huge. Boxing is for me a tool to build a better future," added Rasha AlKhamis, also a member of the board at the Asian Boxing Confederation.
---
The conference on "sport as a tool for the development of women", led by Sara AlFayez, member of the board of the Saudi Ju-Jitsu Federation, was organised by the Franco-Saudi friendship association Generation 2030 (see below), in collaboration with the Ministry of Sports of Saudi Arabia.
Generation 2030's mission is to connect "young French and Saudi talents and supports all their initiatives to create bridges between the two cultures." Founded in 2019 in Paris (FRA), this association comes in the wake of "Vision 2030", a major programme launched in 2016 by the Kingdom of Saudi Arabia which "aims to open Saudi society to the rest of the world and empower its youth."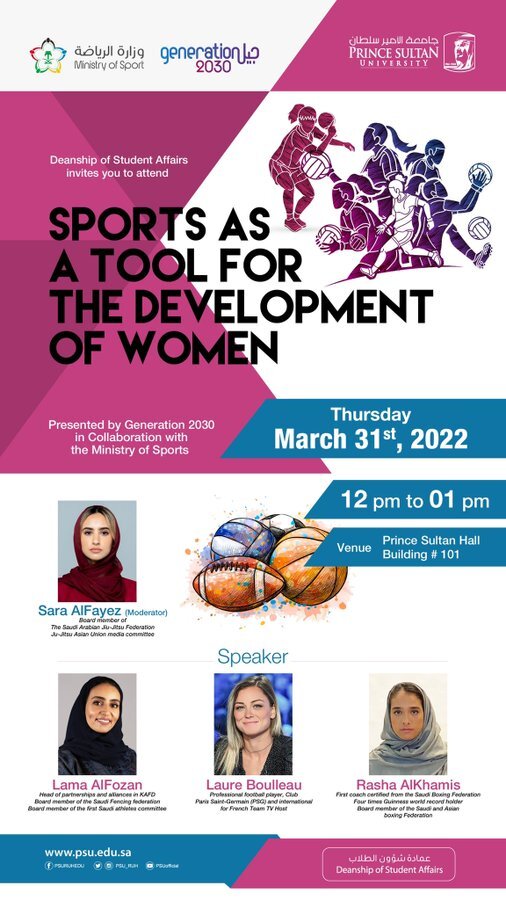 "Football the most popular sport in the world and I will try to use it to make a difference for the rest of my life" (L. Boulleau)
Laure Boulleau and Lama Alfozan, 31/03/2022 - ©  D.R.

• "I put all my energy into making my dreams come true, first by playing with the boys when I was little, then by becoming a professional player and then an international.

• Sport, in general, is a universal language. It can be a bridge between men and women because what it conveys is unique. I realise every day that the power of football is so enormous. It's the most popular sport in the world and I will try to use it to make a difference for the rest of my life.

• The record attendance at the Camp Nou for Barça - Real Madrid (Women's Champions League quarter-final, 30/03/2022) with over 90,000 spectators in the stadium is an example of the growing popularity of women's football.

• The values of sport are endless. You learn a lot from playing a team sport: self-confidence, respect for others, respect for the rules, living together, etc. I've had injuries, and you learn not to give up. Sport has really built me as a woman."

"The Women's World Cup in 2011 marked the beginning of a change for women's football"

"Sport as a tool for the development of women" conference held at the Prince Sultan University in Riyadh (RSA) - ©  D.R.

• "Initially, my goal wasn't to become a professional player, but to play for my country's team and sing the Marseillaise (French national anthem). I took part in the 2011 World Cup in Germany and before the competition there was hardly any media interest. We got to the semi-finals and in terms of image, we benefited from the bad World Cup for boys in 2010 (in South Africa, elimination in the first round, Knysna, etc.). This marked the beginning of a change for women's football.

• The arrival of Nasser Al-Khelaïfi Chairman @ European Club Association (ECA) • Member of the executive committee @ UEFA • President @ beIN MEDIA GROUP • Chairman and CEO @ Paris Saint-Germain (PSG) • Chairman @ Qatar Sports… (president of Paris Saint-Germain Activity: French professional football club Top sponsors: • Nike (equipment supplier): €20m per year from 2014-15 to 2021-22, between €70-90m for the 2019-2032 cycle• Qatar Airways (airline)… since June 2011) was decisive because he decided to invest in the women's team in which I was playing. I then started to earn a living from football. Today, I even have the chance to judge the boys' performances (on Canal+).

• The message I want to give to all the girls here and elsewhere is: keep the passion for sport and the game above all, believe in yourself and do what you have to do to achieve your dream, give everything to reach your goals. Congratulations to all those who are making a difference here. I am so happy to see girls like the women's football team playing in Saudi Arabia."

Laure Boulleau, former French international player, consultant for Canal+, 31/03/2022
"The Ministry of Sports is providing the means to see a new generation of Saudi athletes emerge" (L. AlFozan)
Lama AlFozan, 31/03/2022 - ©  D.R.

• "I started fencing when I lived in France when I was younger. When I came back to Saudi Arabia, I had the opportunity to join a team and step by step we reached out the Olympic Committee into the Federation to create the first national female's fencing team. We started to go on competitions. I was nominated for the Rio Olympics in 2016. When I first started fencing eight or nine years ago, there were maybe 50 female athletes in the whole Kingdom. Today, I am very proud to see that there are more than 4,000. We have a female national team in every federation. We are very proud of what is happening now.

• Sport is very powerful. Everything that I've done in sport has affected me personally and professionally, with a difference between individual and team sport. You have to be mentally prepared to win or lose. It helps you in life in general. We need to have sport here in Saudi Arabia, because we have a lot of health issues, when it comes to obesity for example. Sport has to be part of our daily lives. It's important not just physically but also mentally.

• Fencing doesn't pay, because it is not a professional sport here and therefore the subject of my retirement is specific. I already work in parallel. I try as much as I can to balance between my personal life, my professional career, my NGO (talga) and my sporting career. But sport will always be part of my life. Beyond my role within the Federation, I also plan to be a trainer because I want to pass on my knowledge, especially to kids."

"I'm very optimistic when I see the progress made in the last 10 or 12 years"

• "Today, we are starting to have infrastructures, which was not the case before. We have a vision, a goal, thanks to the support of the Ministry of Sports and the SAOC (Saudi Arabian Olympic Committee) who want to offer the best for the athletes in terms of support. We don't want just to participate, we want to gain international recognition. I'm very optimistic when I see the progress made in the last 10 or 12 years. We have a strategy to empower our athletes.

• There is a lot of potential here in Saudi Arabia as long as you are passionate, dedicated, if you sacrifice a lot with your family and friends, if you're committed to your trainer and coaches, etc. But it's so worth it.

• The Ministry of Sports has very clear KPIs and objectives that they have to reach. It has influence on players and athletes. They are providing the means to see a new generation of Saudi athletes emerge. We are taking concrete actions and as an athlete, I can see the results already. Maybe we're not going to achieve much for Paris 2024, but trust my words, we will be ready for the 2028 Olympics."

Lama AlFozan, member of the board of the Saudi Fencing Federation and member of the SAOC Athletes' Commission, 31/03/2022
"Sport is an area where we (women) can unite our effort to be more involved in order to look for a positive change" (R. AlKhamis)
Rasha Al Khamis, 31/03/2022 - ©  D.R.

• "Sport has the power to change the world, to inspire, to unite people, to actually provide a common language. It is an area where we (women) can unite our effort to be more involved in order to look for a positive change.

• As vice-president of the Saudi Boxing Federation and a member of the board of the Asian Boxing Confederation, my role is to ensure that I'm building and upscaling the boxing ecosystem, that infrastructure is improved, that competitions are developed, that there is access to facilities and coaches, that educational programmes are put in place, and so on.

• All this will allow us to launch a real athlete pathway for young athletes who usually start boxing from the age 11. We will then naturally be able to participate in the various competitions: Asian Games, Olympic Games, etc. That is the journey we all have. Through strategy and consulting, we are paving the way for future athletes."

"Today, we have 50 boxers licensed by the Federation"

• "I grew up doing different sports, starting from soccer, running, cycling, etc. I started boxing back in 2014 during my studies in California (USA) and when I moved back to Saudi Arabia in 2017, I found that nothing had been done here related to boxing: no classes, no fitness boxing!

• This was an opportunity for me to initiate a conversation on the subject and the response was positive, with a willingness (from the authorities) to activate women's sport, especially boxing. That's how I became the first female coach certified by the Federation. The impact was huge. For me boxing is a tool to build a better future. When I started as a coach here, there were about 500 women, students, who participated in the different morning classes at the university. I was very surprised. Today, we have 50 fighters registered by the Federation.

• We have to dream big because our country has huge goals. Our main challenge today is the infrastructure that is needed to welcome the athletes in the best conditions. The better facilities you have, the more athletes you have and the higher your performance is likely to be."

Rasha AlKhamis, vice-president of the Saudi Boxing Federation and member of the SAOC Women's Committee, 31/03/2022